Designed by Hiroshi Nakamura, the small house has a gentle, playful yet decidedly bold and sculptural facade. The following text is from the architect: 'Intimacy;
I want to create intimacy between architecture and people. We live in an environment surrounded by buildings and walls.
To accept this fact and to live with it with a positive attitude, I feel that 'intimacy' becomes the only factor and the solution. The site is in a densely built residential area of Tokyo.
The only open side faces the north, where there is no direct sunlight. The south side faces the balcony and a living room of an apartment next door.
The only way to bring sunlight into the building was to construct a large top light with a void that opens from the top floor down to the basement. Firstly, the volume was risen up as high as possible after securing the space for a car park. I wanted to open up the living room physically and visually where you spend most of the day. So we pushed the wall out as far as possible and created a curvy hollow in the wall.
The hollow embraces; softy and gently, like a kangaroo's pouch. It embraces the light from the top and glows in the early morning, in the midst of the day. The reflected light enters each room with varied expressions giving characters to each space. Sitting in it and lying in it, the dwellers hopefully form an affectionate relationship with the hollow, like exchanging bodily conversations. This is the 'intimacy' I hope to create between architecture and people.'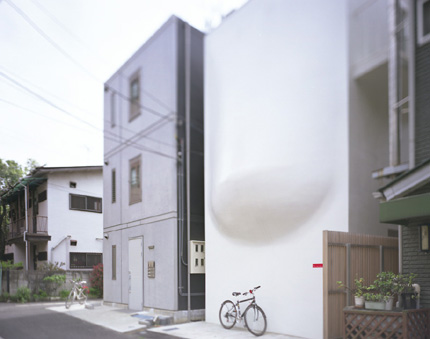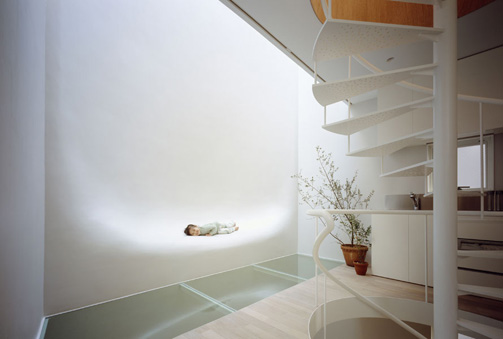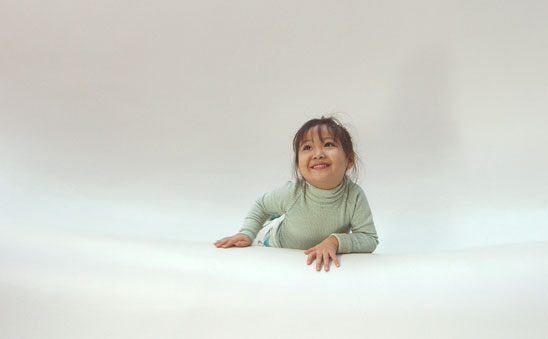 Don't forget to follow Feeldesain on Twitter + Facebook  + Pinterest to get all the latest updates