Fabian Oefner explores the boundaries between time, space and reality.
With a riveting approach to art that is highly methodical but playful for unexpected moments to happen – Swiss artist Fabian Oefner brilliantly creates carefully orchestrated work in photography, sculpture and film as well as pieces utilizing a loose framework for art to happen.
Currently based in New York – he's best known for his photographs of hyper-realistic moments of cars disintegrating and sliced up objects from computers to cameras and shoes embedded in resin.
"I found Studio Oefner 10 years ago as a multidisciplinary space to harmoniously bring art and science together.
My studio is very much like a science lab where on any given day, you see us working on creating indoor tornados to study the motion of air, cutting through a Leica camera on an archaic band saw or disassembling a real Lamborghini Aventador to craft one of the Disintegrating photographs.
It really is a big playground to experiment in!
It's ultimately my photographic work that inspires the sculptures – the objects I fabricate are frozen in time as opposed to moments frozen in time in photography" says Oefner.
A pièce de résistance in every right, scroll further to know more about his extraordinary work that's a part of several public and private collections across the globe today.
Spatial Books by Fabian Oefner:
The stunning Spatial Books series features The Bialetti Book amongst others – a collection of iconic objects turned into books.
For the Bialetti Book – a moka pot was filled with actual coffee, embedded in resin, sliced into 12 individual pages and then bound into a book.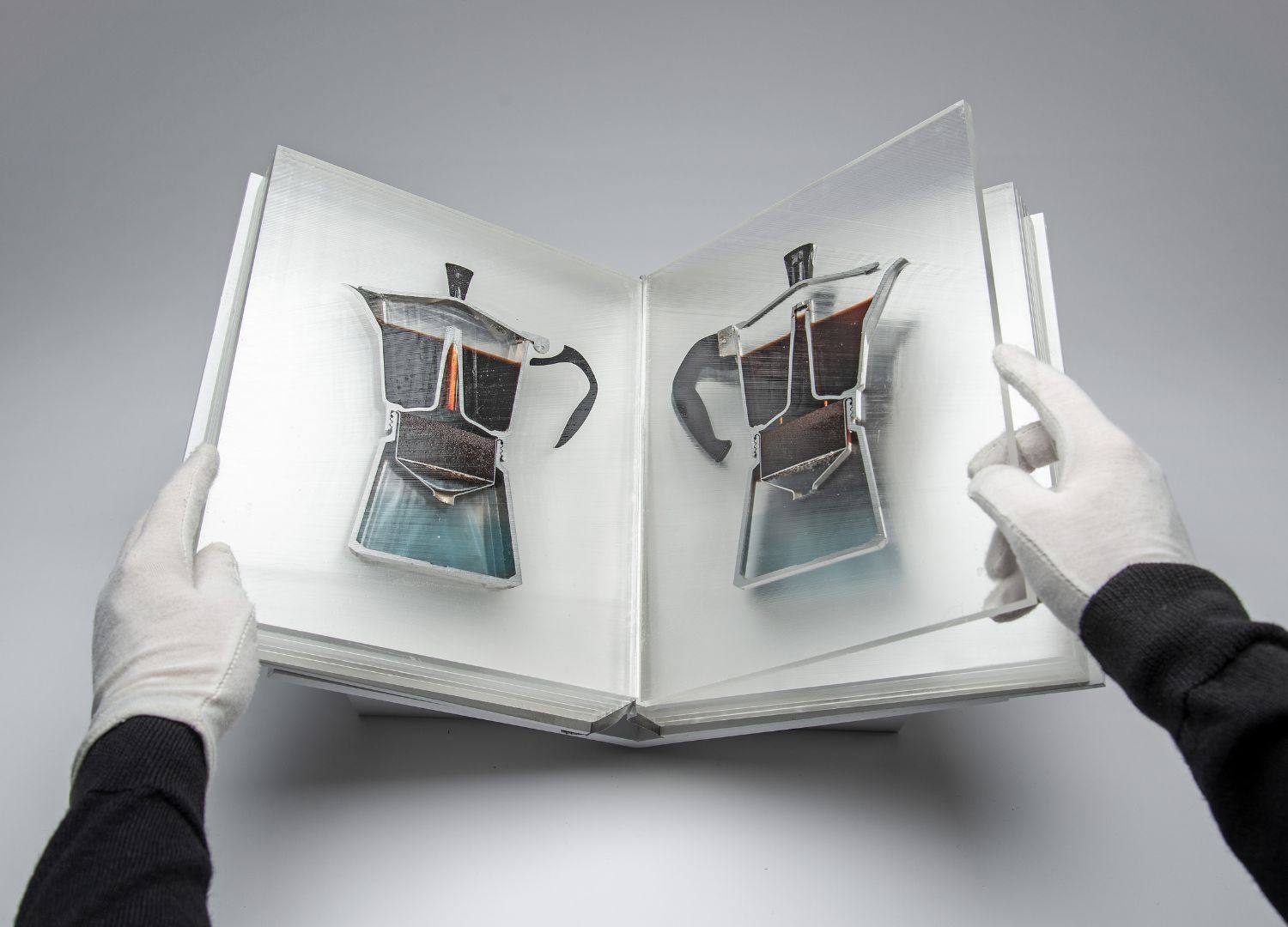 Usually a book contains images, which are an abstraction of reality into a two dimensional space.
In Spatial Books, Oefner bypasses the abstraction and turns reality directly into a two dimensional space.
As one goes on to browse through the pages – they get a completely different outlook on these familiar objects and the result is an intensified sense of space, dimensions, materiality and time!