Need to remind yourself of something but don't want to write it on your hand? Why not wear a Post-it note watch! Doriane Favre designed these watch-shaped sticky notes that you can wear all day so you never forget about that important meeting or to pick up milk on the way home. Buy it here.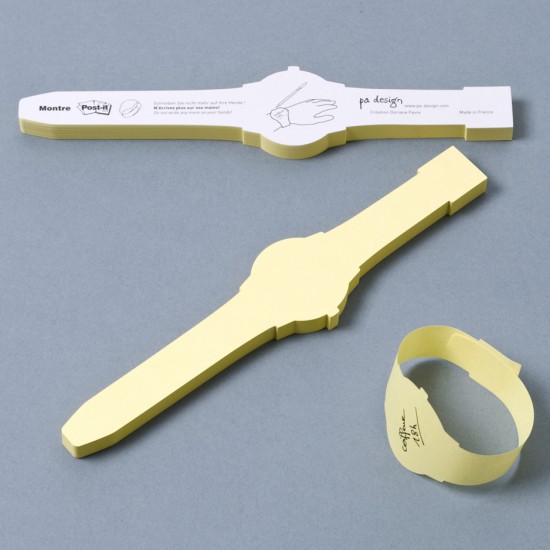 La rivisitazione dei post-it può dar vita a tante, diversissime manifestazioni di estro e praticità; è il caso anche del "Montre Post It", un post-it molto particolare disegnato da Doriane Favre.
Invece di attaccare il post-it a una qualunque superficie, che in ogni caso rischia di non essere vista dall'autore stesso del promemoria, il Montre Post It si può indossare e portare sempre con sè, proprio come un orologio, per non scordarsi veramente mai di quello che c'è da fare.
I Montre Post It sono infatti realizzati a forma di orologio e si possono staccare e mettere al polso con molta semplicità, sfruttando l'apposita parte adesiva.
[via ]