Google Chrome's latest commercial by Süperfad studio.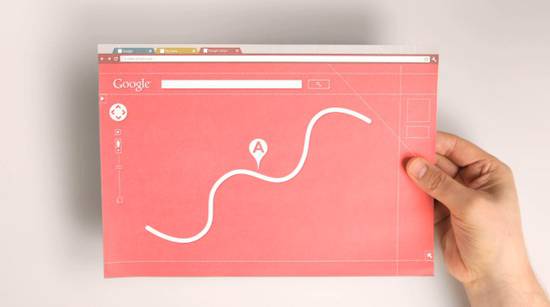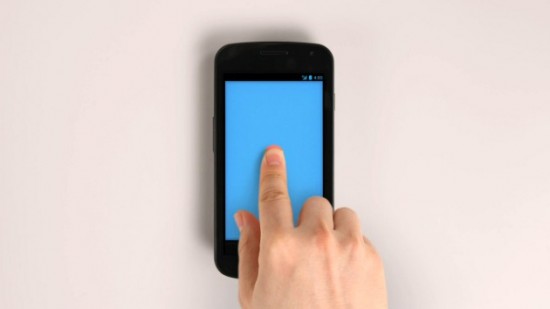 New York, NY – When Google decided to come out with a sleeker, smaller version of their popular Google Chrome web browser, they knew they would have to let people know. The now-iconic Internet company asked their ad agency, BBH, to come up with a web campaign to do just that. For their part, BBH turned to Culver City, California-based Süperfad to quickly create fetching animation and graphics for the eye-catching web spot. Süperfad director Nando Costa decided to take a high-tech approach to creating a low-tech look.
Opening with a shot of a typical computer screen, a voiceover fantasizes about being able to bring your Google Chrome setup with you when you do stuff, because "you love to do stuff." A disembodied hand reaches out and removes the screen like a paper file folder, with personalized tabs and bookmarks intact. To bring the computer screen-sized folder down to smartphone size, the hands simply folds the paper in half a couple of times and, voila: Google Chrome on an Android.
The highly engaging, tactile, stop-motion animation look of the spot proved to be quite a bit of work for Costa and his Süperfad team. Costa comments, "The idea of creating what looks like a handmade Google Chrome app was very compelling, and we quickly came up with an idea of how to get it done."
Like travelling backward through technological time, the Süperfad team began by creating a digitally animated version of the spot using Adobe After Effects. Once it was complete, they painstakingly printed each frame of the digital version on paper. To obtain the organic, stop-motion style movements, they then used traditional stop motion techniques on the printed frames: "We used a motion control rig programmed to move the way we wanted," says Costa. "By simply taking shots of the printed animation frames, a stop-motion animator was able to give it that timeless look."
To convey a more tangible sense of the paper-folding, both Süperfad and BBH worked very closely, and almost non-stop, over several days, each member of the crew armed with a simple piece of paper for reference.
"There was not a single point in the whole process that we didn't have a piece of paper in each of our hands," says Samantha O'Keefe, producer at Süperfad. "Every member of the Süperfad and BBH teams was folding and refolding pieces of paper, trying to figure out just the right look. It was a pretty remarkable experience; I don't think I've ever worked on a project where the full client team was right there with us for the entire project."
"Conceptually, we started with the size of the smartphone screen and expanded from that," says Costa. "We then doubled its size, then doubled again. Eventually we had the size of the computer screen. In the end, we worked with three simple folds to get from the computer screen to the smartphone screen, which is why the computer screen seems a little square. We were doing all of this on-the-fly, with three animators and one designer, because we had to get it done and approved by the client in just a couple of hours."
The result is a spot that admirably conveys the ease of using Google Chrome on your Android.
CREDITS
Project "Chrome Away From Home"
Air Date: Feb 8th 2012
Client: BBH LA
Executive Creative Director: Pelle Sjonell
Creative Director: Mary Fagot
Producer: Mary Ellen Duggan
Account Supervisor: Kathryn Borawski
[ via ]
Don't forget to follow Feeldesain on Twitter + Facebook  + Pinterest to get all the latest updates.