The transformation of Last Clock from an experimental media art project to a design object for home and workplace took place over the last decade. Built on the earlier works looking at computational processing of time, and chronicled on Golan Levin's excellent reference page, Last Clock started as an idea to represent time differently.
Last clock is an ambient display that paints a visual memory of the last 60 seconds, the last 60 minutes and the last 12 hours in an never-ending loop. Available for iPad. lastclock.newmediology.org 
UPDATE: iPhone Version coming out soon too!
Last Clock nasce nel 2002 come progetto universitario di due studenti del Royal College of Arts, Jussi Ängeslevä e Ross Cooper, e oggi prende forma di affascinante App per iPad grazie a New Mediology.
Il meccanismo, che sfrutta la camera incorporata, "dipinge" le ultime 12 ore, 60 minuti e 60 secondi, costruendo  una composizione di immagini e colori fortemente influenzato da quello che il dispositivo coglie attorno a se, e dando vita – con un caleidoscopio di immagini circolari – a un'orologio che vive unicamente nel presente.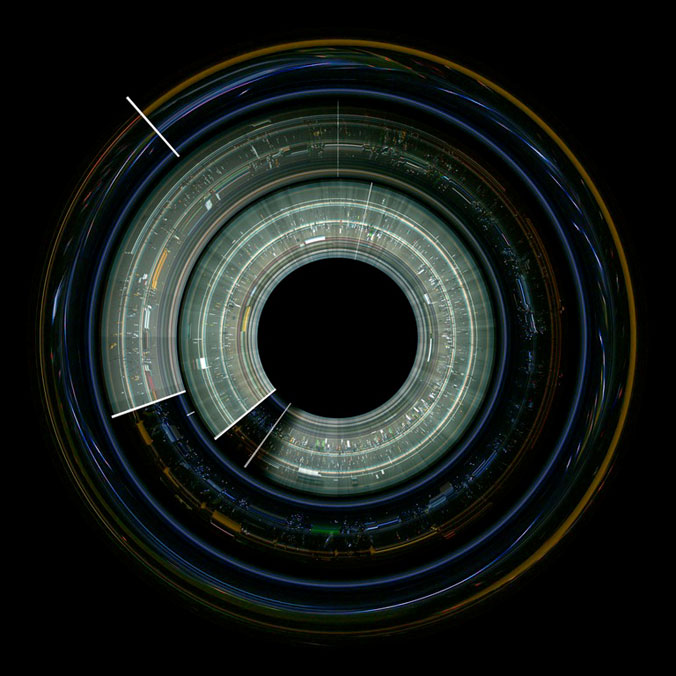 [ via ]