From 20-23 October on the occasion of FIAC 2011, passers by at the Place Vendome became the spectators of a monumental mirror installation produced by Arnaud Lapierre, in collaboration with Audi. This is an exceptional vision that reflects a newer version of a dynamic urban space that interacts with its environment.
A film and photography devotee, Arnaud Lapierre's creations are distinguished for their individuality and allure.  His inspiration is always derived from the human mind as a source, in other words a type of a perceptual script that combines objects of emotion and desire, sensory translation and questioning, creating an unexplained appeal to the viewer-something like a new interpretation or vision of the world. His work portfolio, rich in collaborations with prominent designers, big names in architecture and award-winning projects, sets him amongst the most sought-after emerging designers.  Following the conceptual 1=2 chair, the Audi 2011 award-winning Field Lamp, the Ricochet (in collaboration with Ambroise Dudon) and several other successful projects, French designer Arnaud Lapierre sets off to create his first outdoors installation named 'Ring'.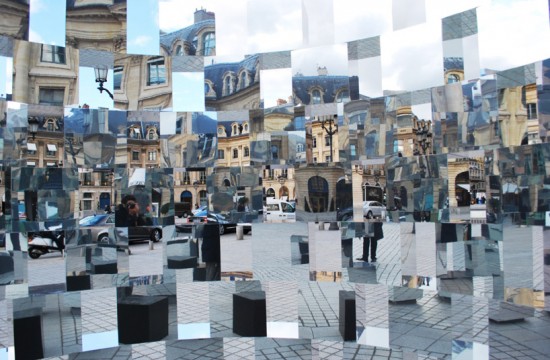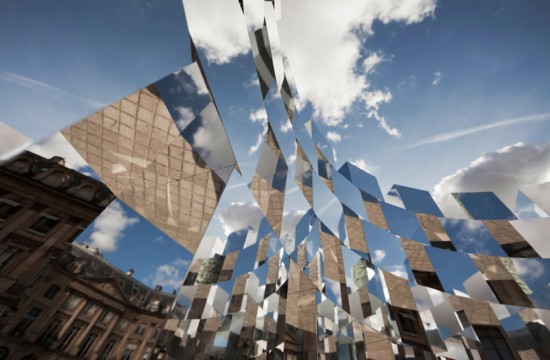 Presentata all'interno dell'edizione 2011 della Foire Internationale d'Art Contemporain(FIAC) a Parigi, "Ring" è la nuova installazione ideata da Arnaud Lapierre che è stata esposta per tre giorni (dal 20 al 23 ottobre) a Place Vendôme. Uno specchio cilindrico composto da cubi alti quattro metri che restituiscono il panorama circostante completamente disgregato.
L'idea è di trasformare lo spazio urbano per farlo somigliare a quello del web: un flusso non omogeneo di informazioni, privo di una vera e propria 'gerarchia' spaziale, collegando le interazioni fra le parti attraverso un effetto ottico, che alteri la percezione della realtà quotidiana. L'anello ("Ring", appunto) è un non-luogo dove le dinamiche tra gli individui vengono divise e moltiplicate sia nei rapporti interpersonali che in quelli con il campo visivo. L'installazione verrà presto riproposta all'interno del circuito "Paul Ricard" di Castellet nell'ambito di un evento organizzato da Audi.